What is What Is Ultherapy??
We're all trying to be a little like Ponce de Leon, chasing the proverbial fountain of youth. As we age, just about all of us could use some lifting, toning, and tightening across their face, jawline, neck, and décolletage. But we're not ready, or often not interested, in having surgery to do so. Now there is a non-surgical alternative, Ultherapy®. Ultherapy® uses ultrasound energy to lift and tighten skin naturally, without a minute of downtime.
Ultherapy Skin Tightening Treatment
What Is Ultherapy?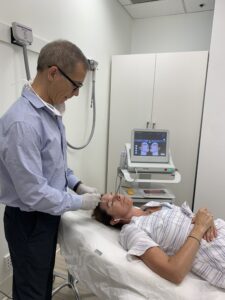 Ultrasound energy is the key to the skin tightening prowess of Ultherapy®. Ultrasound energy has been used across the medical world for decades, most notably for fetal ultrasound, and has proven to be safe and very effective. Ultherapy® is a gentle, non-invasive ultrasound treatment that pushes back against decreasing collagen production and sagging skin due to gravity and natural aging. This FDA-cleared procedure uses ultrasound to initiate new collagen production in the dermis layer of the skin. This collagen boost lifts, tightens, and tones the skin on the face, neck, and décolletage.
How Does Ultherapy Work?
Our Ultherapy® treatments at Beau Visage only take about one hour. About 45 minutes prior to your session, Dr. Moazemi recommends our patients take 800 mg of ibuprofen to alleviate any discomfort.
In an Ultherapy® session, a handpiece is passed lightly over the skin. It delivers focused ultrasound energy down into the dermis, the second layer of the skin beneath the epidermis. When this ultrasound energy reaches the deeper levels in the skin the energy heats up the skin's foundation. The body perceives this as a wound and responds by producing new amounts of collagen and new skin cells to address the "wound," despite the fact that there is no actual injury. The new collagen and skin cells improve the tone and texture of the skin in the treatment area.
Unlike some tightening procedures that can damage the epidermis, Ultherapy's ultrasound energy passes right through the epidermis into the dermis. This protects the outer skin surface and is more comfortable than other procedures. Plus, there isn't any downtime. This separates Ultherapy® from various laser skin tightening procedures.
Would I be a good candidate for Ultherapy?
When patients ask what they can expect from Ultherapy®, Dr. Moazemi equates it with the changes made in a surgical facelift. Of course, the degree and the permanence of your changes won't offer the same rejuvenation, but Ultherapy® achieves those kinds of tightening and lifting effects. Ultherapy® is a good procedure if you have mild to moderate skin laxity across your eyebrows, neck, under your chin, or if you have lines or wrinkles on your décolletage.
Ultherapy® won't replace a facelift, but it is a good alternative for patients who either don't want to have surgery or are looking for ways to extend a prior facelift, neck lift, or brow lift.
Are there side effects or is recovery required after Ultherapy?
As mentioned above, the ultrasound energy that is the basis of Ultherapy® has been used across the medical world for decades. It is tolerated quite well by our bodies. Immediately following your session, your skin will appear flushed, but this resolves in just a few hours. You may have some slight tingling, swelling, or tenderness on the treated areas, but that also passes quickly.
There isn't any recovery after an Ultherapy® session; you can get right back to your normal activities immediately after you leave our Walnut Creek offices.
Is Ultherapy painful?
When the ultrasound energy passes through the epidermis into the dermis, it converts to heat energy. That's the key to the collagen boost that this process initiates. When this happens, you'll feel a warm, possibly slightly prickly sensation. Our Beau Visage patients don't equate the feeling with pain. As mentioned above, taking 800 mg of ibuprofen beforehand can help to ensure you experience a comfortable treatment.
In addition to suggesting ibuprofen, we are also offering nitrous oxide known as "laughing gas" to help with pain control during your treatment. Call us today at (415) 644 8301 to learn more!
When will I see my results?
Some patients see an initial tightening, but most of your improvements will occur over the following 2-3 months, as your body builds new collagen and elastin.
How long will my results last?
Because Ultherapy® triggers new collagen production, your results last for about one year. Then the natural decline of collagen comes back into play, so another Ultherapy® session can be scheduled to maintain your results.
Learn More About The Benefits